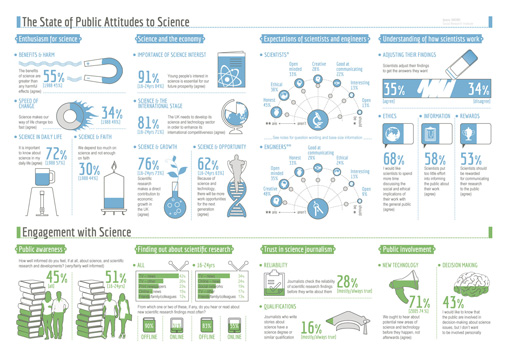 Last Friday we launched our most recent survey of Public Attitudes to Science.  I've blogged about the key results:  it's great to see the really positive attitudes towards science: people want to know more, and they're engaging in many different ways with science.   It's heartening to see stats like:
The UK public are as interested and enthusiastic about science as they have ever been in the last 25 years
Science is increasingly seen as important to the economy and the public widely support continued government funding for science. Three-quarters (76%) think scientific research makes a direct contribution to economic growth in the UK
The public think it is important for them to know about science and want to hear more from scientists, government and regulators
Nine-in-ten (91%) agree that young people's interest in science is essential for our future prosperity
But the report also highlights that there are some things that still need more thinking about:
There are established contentious issues (such as GM), and emerging issues that may become more contentious as media coverage increases (such as fracking)
Scientists and engineers are highly respected but people still do not know much about how scientists work
There appears to be low trust in science journalism
There appear to be outdated perceptions about careers in engineering, with little awarenss of the career opportunities that are available.
That's why it's good that we're able to feature some of the activity that so many of our partners are involved with on this blog.